Treatment Plans and Interventions for Insomnia: A Case Formulation Approach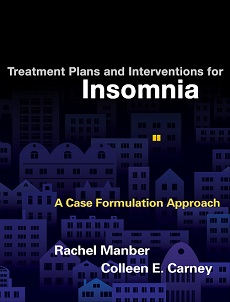 This book will guide therapists in helping their adult patients, including those with comorbidities, to sleep better using cognitive behavioral therapy for insomnia (CBT-I). This book is unique in teaching clinicians and clinicians in training to apply CBT-I in a flexible, patient-tailored manner. The book provides a case conceptualization framework for making important clinical decisions about how to select the most relevant treatment component, in what order to introduce them, and when to alter the standard guidelines to the unique needs of each patient. A case formulation approach is a must for those who see complicated cases and have a limited number of sessions in which to address multiple problems, including sleep. There has never been a book like this so even expert sleep specialists will buy this book because it is the first source for how to tailor treatment and address complex problems encountered with comorbidities.
A full course of treatment of two cases is provided, including assessment, case conceptualization, treatment planning, and vignettes.  In the spirit of promoting patient-centered implementation of CBT-I the book does not provide a rigid session-by-session protocol.  Nonetheless, to aid therapists as they learn to use this treatment, a template for a six-session treatment protocol (an insomnia assessment session plus five treatment sessions) is included.